In this day, it seems like everyone is advertising themselves as a digital marketing agency.
But how do you know which one to choose? It would help if you considered many things when selecting the best digital marketing agency for your brand or company.
The following article will provide 5 tips on finding the top digital marketing agencies to help you make an informed decision and ensure for your business ideas goals!
1. Check Portfolio – Quality, Variety & Results
When choosing the best digital marketing agency, the first thing you want to do when selecting the right digital marketing agency is look at their portfolio.
Find out what industries and markets the agency has worked in, as well as how many years they've been around.
You want to make sure that they have a wide range of clients. One way to do this is by looking at their website or Instagram page. You also need to know if they have any awards or recognition for outstanding work, so check that too!
2. Check Reviews & Testimonials
It is also essential to research the company you are considering. Find reviews and testimonials from their previous clients, or ask for them! This will help give you a better idea of what they're like to work with and if it would be worth your time.
3. Social Proof and a Strong Industry Reputation
Social proof is substantial because it differentiates the marketing an agency provides for your company. Strong industry reputation tell you a lot about an agency, especially if they have testimonials and reviews on their website.
So, if they don't, that might be a sign that they're not very experienced or have no previous clients.
Please find out more by contacting them to find out what types of social media marketing campaigns they specialize in and what kinds of brands. Now that you know what to look for, you can find the best digital marketing agency for your brand or company.
4. Investigate technical ability and industry experience
Before you meet any agency, scope out their website for previous clients, campaigns and results. A lack of transparency here is a red flag. Experience matters!
Ask how long the agency has existed and how experienced the strategists will be running your campaign? A team with varied experience across multiple industries (including yours) is treasured.
When you meet an agency, prepare a list of varied technical questions to put their abilities to the test. Putting them on the spot will highlight their skills and their transparency.
A good agency will tell you honestly what is and isn't possible. You can also investigate how well the agency markets itself.
If you're looking at SEO agencies, check domain authority. If you're after social, flick through their Facebook page. Find an agency that practices what they preach.
5. Find a local team you get along with
First things first, look local. Working with a local agency will always help the relationship and communications, both pivotal for success.
Secondly, ask whether the agency outsources any work. An in-house team indicates that the agency prioritizes quality and wants to stay in complete control of their work.
Once you've drilled down to the final key candidates, it's time to find out if you actually get along. If you can share a few laughs and perhaps even a beer, you're on the right track for a successful relationship.
When you enjoy working with your agency, it's easier to navigate challenges and explore innovative new territory.
Top Digital Marketing Companies in Bali
With lockdown neutralizing whole marketing channels and the Bali economy still reeling from the impact of the pandemic, picking up new clients isn't easy at the moment.
But reputation can go a long way towards helping persuade brands to open up their budgets.
To find out which digital marketing agencies were the most respected and admired in the industry, we did the sensible thing – we asked other digital marketing agencies about who they respected and admired.
Our Bali Digital Agency Census, released throughout this month, surveyed hundreds of digital agencies and asked them to nominate the best agencies they thought.
The results of the Census will be released throughout March, culminating in our Elite Poll – a best-of-the-best ranking that will highlight the best digital agencies in Bali.
Which agencies came out on top in Bali?
From social media to content to SEO to email to advertising, digital marketing involves marketing your business online.
Your audience uses these digital channels to find products and services. So, to stand out from competitors, your website and brand must show up online.
Digital marketing agencies help you build a presence on one or multiple internet marketing channels. They allow you to define goals, create a strategy, execute within a budget, and track ROI.
Whether you want to launch an advertising campaign to increase traffic to your website, grow brand awareness on social media, or improve your email performance, a digital marketing company can help you meet your goals.
Luckily, Bali has some of the best digital marketing agencies to hire. Evaluate their case studies, project types, and client reviews to determine which company is the best fit for you. Use our list to find and connect with digital marketing agencies in Bali.
Top Results-Driven Digital Marketing Agency
1. JAIM Agency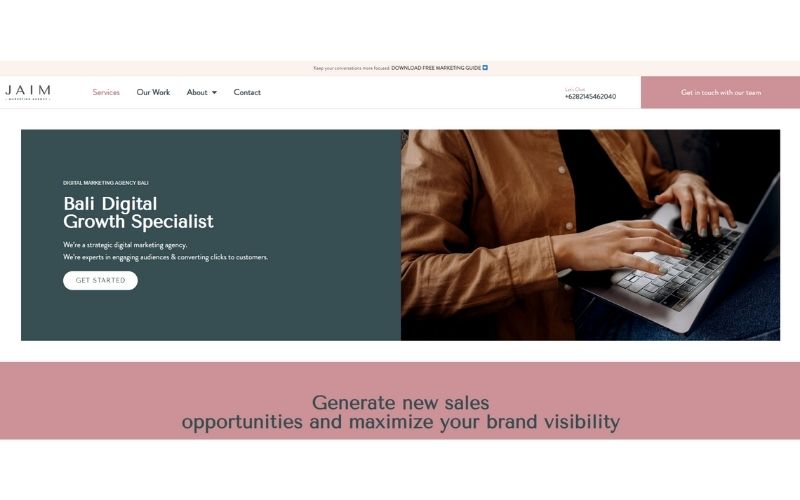 JAIM Agency is one of Bali's top B2B digital marketing agencies today. Driven by data analytics and business insights, the Canggu-based company implements effective digital marketing strategies.
JAIM help brands scale for growth, explore new territories, bring new products, and deepen customer relationships. They have let go of the concept of the traditional agency and instead play the role of a partner and expert friend.
JAIM have worked with brands such as Sa'mesa Bali, Bali Beach Glamping, Ivy Lounge, and more.
List B2B Digital Marketing Agencies
2. Sun Media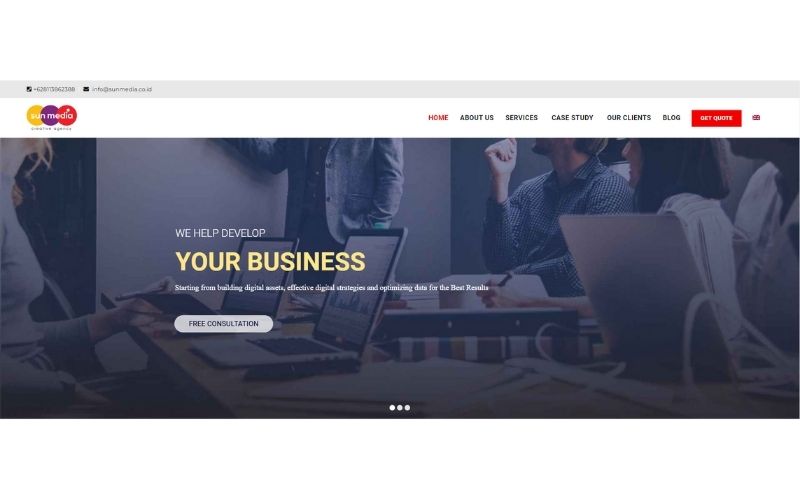 Sun Media is one of the top B2B digital marketing agencies in Bali. They help brands scale for growth, explore new territories, bring new products and deepen relationships with customers.
They have let go of the concept of the traditional agency and instead, play the role of a partner and expert friend. Driven by data analytics and business insights, Denpasar-based company implements effective digital marketing strategies.
3. Island Media
Island Media focuses on website development and performance marketing to help its B2B tech clients. They believe that weaving stories about your brand are one of the most effective ways to be heard instead of an ad hoc approach.
Island Media has served big names such as Scuba Center Asia Lembongan, Mandalika Beach Club, Aynat Villas, and Orca Nation. The company has offices in Bali and Jakarta.
4. Kesato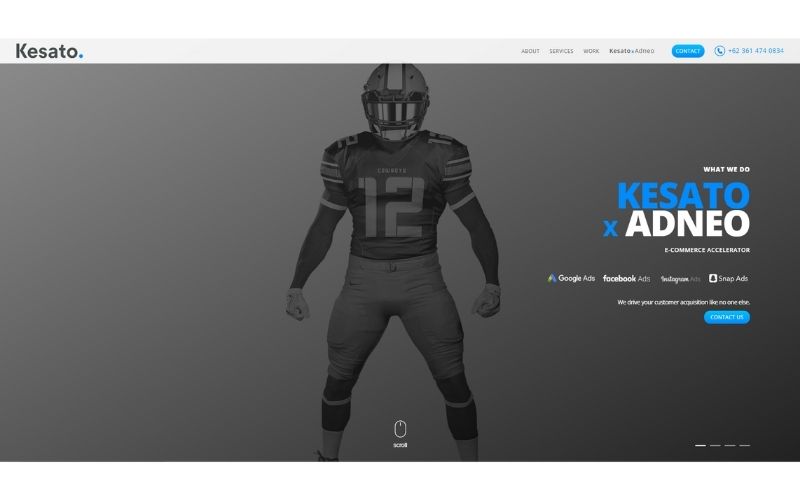 Kesato is a digital marketing agency in Bali. The young team uses a proactive approach and effective marketing solutions to help your brand form connections and get more sales.
They have affordable packages and offerings that suit the budget of small businesses. Some of their projects include digital strategies for Ramayana, Tropicola, Warisan, Damaria, and more.5.
5. Whello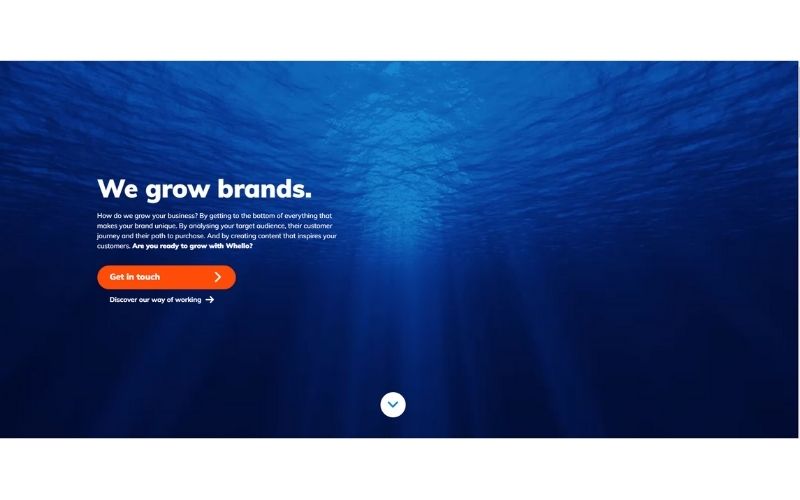 Whello is another digital marketing agency based in Bali offering various services to help them achieve big dreams. They believe that your brand deserves a tailored approach. The digital experts can customize a plan that will fit your budget.
They have worked with brands in eCommerce, property, finance, legal, travel, food, beverage, medical and other sectors.
Conclusion
We know that finding the perfect digital marketing agency for your business can be a daunting task.
That's why we made this blog with tips & recommendations to help you find and hire a top-quality search engine optimization, social media management, or email marketing campaign company like JAIM!